SugarDaddyMeet Review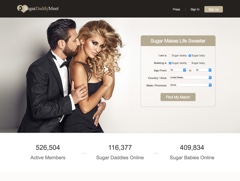 SugarDaddyMeet specializes in connecting rich older men (sugar daddies) with beautiful young women (sugar babies) so it's not a good site to find a sugar mommy or gay sugar daddy. The users are mainly from UK, Australia and the USA. This website understands well what sugar daters want - income verified sugar daddies and photo verified sugar babies - so they've been offering free verification service to all members so everyone can get a verified icon if they want.
It's Free to:
Set up a dating profile and let people find you;
Hide from all people and browse profiles anonymously if you want to;
Browse profiles, photos, forums and blogs;
Post Moments, blogs and forums;
Comment on others' profiles, photos, Moments, blogs and forums;
Perform basic search: age, gender, in which country or state;
Send winks to let people know you are interested;
Read and reply to messages;
Gold Member Privileges:
Initiate emails and messages;
Perform advanced search to narrow down results if you want;
See who have viewed your profile;
See who is interested in you;
Hide from certain groups of people;
Gold Membership Fees
On full website and mobile site via Paypal or credit card:
1 Month ≈ £37 ( One month gold membership will be auto-renewed unless you cancel it. You can email support@sugardaddymeet.com or call 1-(416)-628-1072 and ask them to cancel auto-renewal for you. )
3 Months ≈ £68 ( No auto-renewal. )
6 Months ≈ £108 ( No auto-renewal. )
On iOS app:
1 Month ≈ £49
3 Months ≈ £75
6 Months ≈ £121
So you see it will cost you more money if you purchase the gold membership on SugarDaddyMeet app. However, you can upgrade your account on full website or mobile site and use their app as a gold member.
What We Love About SugarDaddyMeet
Funds are refundable. Below is SugarDaddyMeet's refund policy:

You have the right to cancel your subscription, without any penalty or obligation. For any full / prorated refund inquiry within a reasonable time frame or if you wish to make changes to your gold membership please contact our 24/7 customer service 1-(416)-628-1072 or email to us support@sugardaddymeet.com, and we will be more than happy to help with your requests in one working day.

You may get a full refund if you only used 3 days or less, and partial refund if you paid 3 or 6 months but only used 1 month. If you paid by Paypal, payment made 3 months ago is too old to be refunded. If you paid via iOS app, you'll need to contact Apple for refund.

Free verification service.
Fewer scammers and fake profiles.
What Daters Are Complaining About SugarDaddyMeet
Many sugar babies are complaining that as a free member you can hardly do anything on SugarDaddyMeet. Usually they mean you cannot narrow down search results and initiate messages if you don't pay. They also complain that the $50 monthly gold membership fee is too expensive for sugar babies though it does help reduce sugar baby competition. If you cannot afford $50 monthly fee, you may try some other sugar daddy sites that are free or cheaper for sugar babies. If you don't want to compete with too many sugar babies, SugarDaddyMeet is the best sugar daddy website for you.
5 Reasons to Try SugarDaddyMeet
This website has been online for over a decade: There are times when you are unable to trust online dating sites, especially when you are looking for a sugar daddy. This is because most of the websites are quite new to this field; however, SugarDaddyMeet is not a new website. You can find all the sugar daddies that you want to, with the help of this website.
There are a lot of sugar daddies on this website: The good news is that there are many sugar daddies from UK. All you need is a good and impressive profile to ensure that sugar daddies are attracted to you.
It is easy to navigate: While most of the websites are quite difficult, when it comes to navigation, this site ensures navigation is easy for you.
You can meet plenty of income verified sugar daddies on this website: Gone are the days when you had to be worried about ending up with a fake sugar daddy because this website manually verifies users' income and photo for free.
There are plenty of photo verified sugar babies on this website: If you are searching for a sugar baby, you can go through the profiles of all those gorgeous women that have verified their photo on this website.