SugarDaddyForMe Review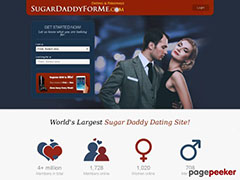 SugarDaddyForMe has over 4 million registered sugar daddies, sugar babies and sugar mommies. It is not the largest sugar daddy website nor the most expensive one but it's also very popular. This website offers all new users a 3-day free trial so they can use the site for free and see if they like it before they pay. The features are also very useful for finding a sugar daddy or sugar baby. If you have visited different sugar daddy websites online but haven't got a sugar daddy, we recommend that you give it a try.
How It Works
Free members can only upload 3 photos;
Silver members can send and receive emails with limited storage;
Silver members can also chat via instant messenger but no message history;
Gold members can send unlimited emails, chat and see message history;
Gold members also enjoy fast profile approval and get highlighted and placed top in searches;
What We Love About SugarDaddyForMe
All new members have a 3-day free trial;
They also offer a 5-day full access pass for £0.75;
Funds are refundable. You can email cs@sugardaddyforme.com to ask for refund;
It's free to perform advanced search and see who is online;
The features are very sugary, i.e, designed for sugar daddies and sugar babies;
You will need to fill in your credit card info when you apply for the 3-day free trial. If you don't cancel early before your 3-day free trial membership expires, your membership length will be auto-renewed to one month and you will be charged one month membership fee.
How Much Does Premium Membership Costs
Silver Membership ≈ £22
Gold Membership ≈ £26
Optional: £11 per Month for Total Access that allows non-paying members to contact you and reply to your emails
6 Reasons Why SugarDaddyForMe Is Popular
This is trusted by most of the people and hence more people are ready to trust it: The good news is that this is one of the websites that is trusted by most of the people around the globe and hence there are more people that trust it. All you need to do is create your account on this website and check if it meets your demands or not; in the end, you would realize that it does!
This website has some of the most positive reviews online: You don't have to visit any online forum searching for a good website on the suggestions of others; the most wonderful thing about this website is that there are a lot of reviews written right on the main page.
You don't need to spend a lot of money in being its member: While most of the sugar daddy websites are expensive, this is that one site that is neither expensive for sugar daddies nor for the sugar babies. It knows that you are looking for companionship and hence, it has kept the membership fee pretty affordable.
You have a three day trial period as well: There is a three day trial period for all those, who wish to try this website for free. Once you are satisfied with its services and trust the members, you can pay the fee and become a member for a long period of time.
You get generous sugar daddies for yourself from this website: You don't need to search hard to get good and trustworthy sugar daddies for yourself; this website has genuine people for you.
There are beautiful sugar babies on this website: On this website, beautiful sugar babies are all set to burn your desires and steal your heart.