SugarDaddie Review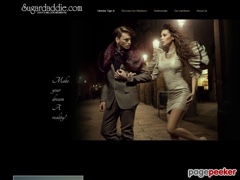 SugarDaddie.com was the first sugar daddy website on the internet and is very popular in the UK because of being featured by The Richard & Judy Show. This website only serves male sugar daddies and female sugar babies from these countries: United Kingdom, United States, Australia, Canada, Germany, Switzerland and Netherland, and they don't strictly limit the relationship types to sugar daddy relationship only, which means there may be some sugar daddies who are looking for long term serious relationships or even marriage.
How Much It Costs
24 hour discount:
1 Month ≈ £25
3 Months ≈ £51
6 Months ≈ £90
12 Months ≈ £154
Original price:
1 Month ≈ £30
3 Months ≈ £60
6 Months ≈ £105
12 Months ≈ £181
Premium Members' Privileges:
Read and send messages to other members.
IM chat.
Customer Support Phone Number in United Kingdom
0845-5280842 ( Mon to Fri 9 am - 10 pm; Sat 2 pm - 10 pm; Sun 2 pm - midnight )
What We Love About SugarDaddie.com
They do not have automatic renewals. You will never be billed again unless you request it.
It's free to use advanced search and browse online members.
The layout is well-organized and navigation is easy.
What We Dislike About SugarDaddie.com
It seems that SugarDaddie.com doesn't screen profiles. Sugar babies' overall quality is not so good as other sugar daddy sites.
Typical Testimonial From A Sugar Baby
Talking of being a sugar daddy, the first thing that you need to do is visit sugardaddie.com and find out how to create your profile here. Why am I suggesting this website to you? Read below to know the reasons:

Firstly, this is one of the most trustworthy websites you would ever come across, with regards to finding a sugar baby or a sugar daddy for yourself. As soon as you logon to this website, you realize that it has some of the most amazing profiles that interest sugar daddies and sugar babies, both. If you are a sugar daddy, the best thing about this website for you is that the sugar babies are totally cute. You feel like talking to all of them altogether!

Secondly, most of the people believe in the profiles on this website. You don't have to do anything else when you have your profile here; just open your account, have an impressive profile and see how people approach out to you.

Thirdly, this is a great website for sugar babies. I know because I am one and I have found this to be the most perfect website to find amazing millionaire men! At first, I was very much unsure of being a sugar baby to someone; when I saw amazing men on this website, I decided I had to give it a go because I have all that it takes to flourish in this field. I have met three different sugar men here and have dated all the three of them at different times. You are extremely safe when you use this website for your hunting needs. Fourthly, the website itself is so tempting that you feel like getting into a relationship with one of the account holders right away!