EstablishedMen Review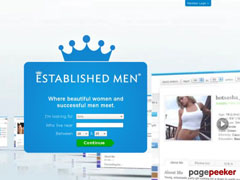 EstablishedMen is a dating site that connects established men (sugar daddies) with beautiful young girls (sugar babies). This sugar daddy website has over 1.5 million users, which consists of many college students, some models, and plenty of attractive women. Women love this site because they can search and send messages to established men for free. However, the membership fee for established men is more expensive than other sugar daddy sites. The women vs men ratio of this website is also higher than other sugar daddy sites.
What We Love About EstablishedMen:
Women can send messages for free if they have profile photo; (Men can send 3 messages for free if they have profile photo;)
Search tools are effective and free for all members;
What We Dislike About EstablishedMen:
EstablishedMen doesn't offer verification service so you don't know whether the established men and beautiful women are real or fake;
You'll probably meet some escorts and many scammers on this site because it's free to send messages.
How Much It Costs
For men (sugar daddies), the site offers 3 packages:
1 Month (100 credits) ≈ £60
3 Months (300 credits) ≈ £111
12 Months (3000 credits) ≈ £227
*Note: Credits are used to send gifts to other members. Women can pay £22 monthly fee to be listed in the top 5 search results.
Premium Features for Established Men:
Sending messages without a photo;
Unlimited Messaging;
Listed at Top of Search Results
Premium Member Badge for your Profile
Appear Highlighted in Search Results
24 Hour Exclusive Access to new members
Recommended to new members
Typical Testimonial From An Established Man
I have personally adored this website because the kind of women that I was looking for is all that I got from here. I am not the same old lonely man that I used to be, till a few months earlier. Even though I have always had a thing for younger women, I knew I didn't want someone immature; I always wanted to have a very mature and understanding woman by my side because all my life, I have struggled hard to earn the money and position that I have, now.

When I first logged on to establishedmen.com, I thought I would never be able to understand what I want because I was not very sure about the whole sugar daddy concept. However, I simply created an account and became the member of the website and fell in love with it right from day one.

No doubt I had to spend a few minutes to create an impressive profile, but when I did, I was contacted by different sugar babies quickly. I did not understand whom to avoid and whom to respond because they all were extremely pretty. When I spoke with five to six different women, I found the most perfect match according to my needs.

Establishedmen.com made me meet someone I always wanted to have by my side. Right from the time I was a young man, I only rushed from one corner to another in search of job and money. Now that I am well-settled, I thought of finding someone just the way I have always imagined; thanks to this website, I have a very young and voluptuous woman in my life. She takes very good care of me and gives me all that I want. In return, I take care of her financial issues and support her family. Our relationship is extremely beautiful!